Continest's innovative defence industry developments made their debut at the 2002 GSOF Europe event in Budapest with great success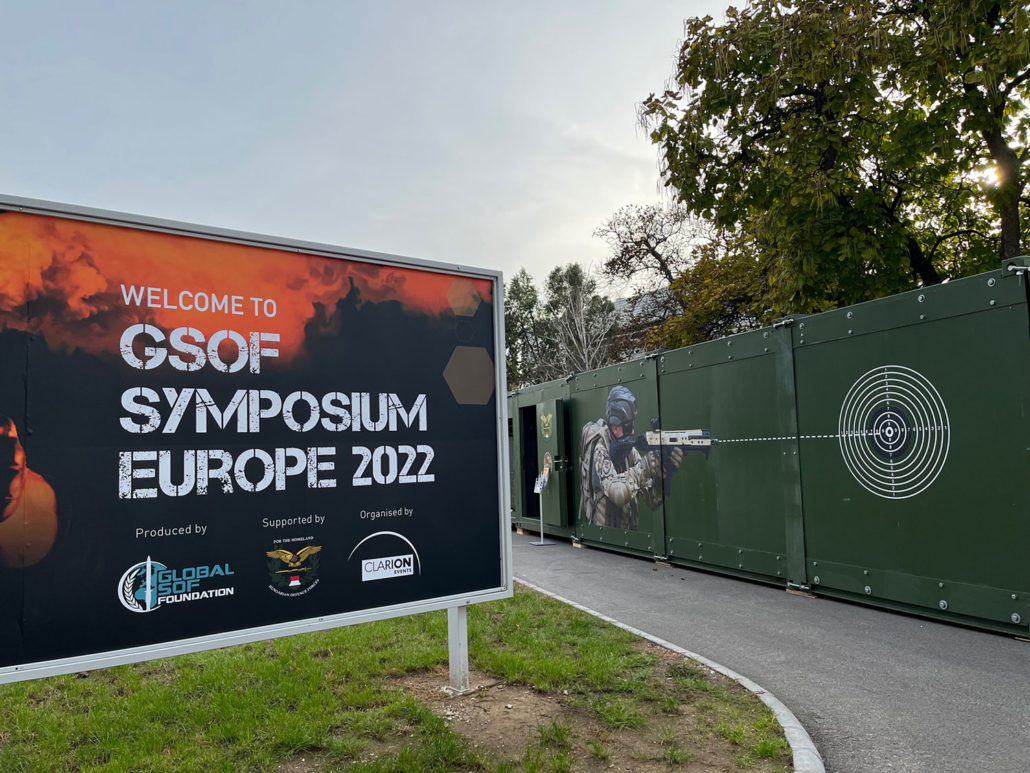 Budapest, October 7, 2022 – With significant domestic and international interest, Continest Technologies Zrt. presented its innovative defense industry developments based on foldable container technology at the GSOF (Global Special Operation Forces) Symposium Europe, which concluded yesterday.
The GSOF Symposium Europe event, which is a special international defense industry exhibition and professional meeting, was held at the Budapest Hungexpo Center October 4-6, 2022 with the participation of more than 25 countries, nearly 80 military and government representatives, as well as hundreds of visitors from the defense industry. Nearly 70 exhibitors presented their innovations to high-ranking representatives of the Special Operations Forces and the professional market.
Continest, an innovative solution development company headquartered in Hungary, showcased their container-based products inside Hall H as well as outside the pavilion, all of which were of great interest to visitors.
In 2021, Continest, which designs and manufactures foldable containers that are quickly transported and installed as well as energy-efficient, produced a unique container-based (Re)Deployable Military Shooting Range developed together with the Modernization Institute of the Hungarian Armed Forces. The range, manufactured in Continest´s new factory in Székesfehérvár, is currently used as a training tool for the Hungarian Armed Forces in Debrecen. The innovative characteristics of the shooting range system include its 360-degree interior armoring making it suitable for both static and dynamic shooting activities; and thanks to its modular design, its length can be increased as desired. In addition to the (Re)Deployable Shooting Range, the CN Hybrid container, a self-sufficient renewable power storage and generation container equipped with a battery and solar panel, was also on display with optional affixed armored ballistic protection (CN Shield) walls.
A new product jointly developed by the Slovenian company Guardiaris and Continest, the training simulation Mobile Training Center (MTC), debuted with great success at the GSOF 2022 exhibition. The developers integrated Guardiaris' world-class SAMT simulation system into the three specially designed soundproof mobile container units. SAMT is a revolutionary laserless mobile firearms training system that allows for unique marksmanship and tactical training. The simulation module records real-time, accurate information about combat operations, weapon movement, handling of the small arms, as well as accurate trigger and firing times. Thus, the MTC is the first indoor simulation training unit without a laser, in which fast, simple and accurate ballistics training can be carried out. Thanks to Continest's foldable solution, it can quickly be put into operation on any terrain and effectively supports training, thereby significantly improving the preparedness of the teams. The simulation system was tested with great satisfaction by the special operations commanders and operators of several NATO members and partners.
The exhibition was also accompanied by high-quality forums, presentations and strategic discussions, which focused on the defence and security solutions of the future. During the three-day large-scale event, the Continest exhibits were visited by the Hungarian Minister of Defence Kristóf Szalay-Bobrovniczky, Yacov Hadas-Handelsman, Ambassador Extraordinary and Plenipotentiary of Israel to Hungary, Lt. General Romulusz Ruszin-Szendi, Commander of the Hungarian Defence Forces, Major General Tamás Sándor, Commander of the Special Operations Forces of Hungary, Lt. General Antonio Fletcher, Commander of NATO's Special Operations HQ, and Tamás Vargha, Secretary of State for Civil Intelligence within the Ministry of Foreign Affairs and Trade and Székesfehérvár parliamentarian, along with numerous other representatives of the domestic and international defence industry.
Continest´s goal is to serve the Hungarian Armed Forces with innovative solutions that make the execution of tasks safer and more efficient, while increasing the export of products developed for the Hungarian defense industry.
We appreciate your attention to the topics presented and we are available to answer any further questions regarding the subject matter.
https://www.continest.com/wp-content/uploads/2022/10/7_gsof_mobil_katonai-_lokontener.jpg
1125
1500
CONTINEST
https://www.continest.com/wp-content/uploads/2023/03/continest_logo_h.png
CONTINEST
2022-10-15 14:24:02
2022-10-15 14:24:02
Continest's innovative defence industry developments made their debut at the 2002 GSOF Europe event in Budapest with great success